MOVE Studio Rental Information
For your rental needs, MOVE has two lovely studios which are available for a variety of classes, private instruction and events. Our beautiful facility is ideal for most movement classes: dance, yoga, Pilates, Nia, Zumba and martial arts; as well as for theatre classes and rehearsals, music, singing or acting lessons, film/photo/video shoots, auditions, workshops, etc. See pictures and studio info below.

Our Main Studio is 960 sq. feet and features:

Sprung oak laminate floor

Ballet barres

Mirrored wall with curtain

Stereo system

Abundant natural light

Fee:

$35.00 per hour (check or cash only)

Our Loft Studio is 500 sq. feet and features:
Cushioned oak laminate floor

Mirrored wall with curtain

Bose speaker system

Abundant natural light that includes a panoramic, mountain view

Fee:

$30.00 per hour (check or cash only)

Please check the Studio Calendar page (click here) for available days and times. Unfortunately, the two studios cannot be rented simultaneously.


A $20 same-day cancellation fee will be assessed, so we kindly request that you provide 24 hours notice if you cannot fulfill your rental request.

MOVE Studio Regulations and Items to Note:

+ No food or drink (other than bottled water) allowed in the studios.
+ Soft-soled shoes or bare feet only in the studio - no street shoes on the studio floors.
+ Please clean up after yourselves and your students and deposit all trash into the proper receptacles.(a $15 cleanup fee will be added to your total if the room is left in unacceptable condition.)
+ No child is to be left unattended in the lobby/office or dressing room for any length of time. MOVE is not liable for children left alone.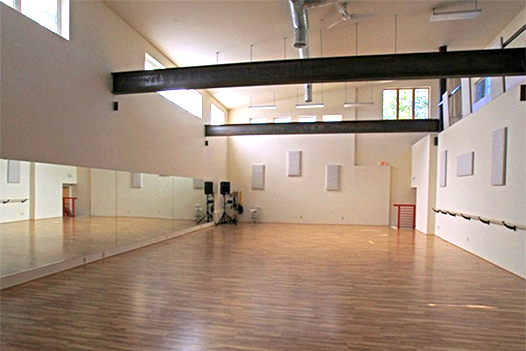 Main Studio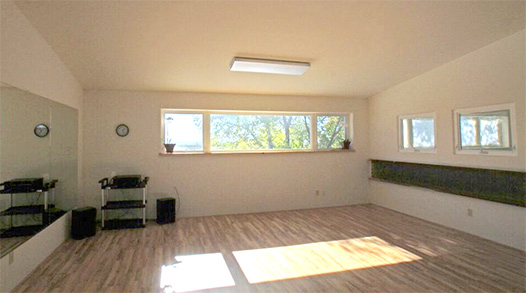 Loft Studio
Lobby
---
HOME | DIRECTIONS | DCP!™ SCHEDULE | ABOUT | STUDIO RENTAL | STUDIO CALENDAR | PHOTO GALLERY | 901 W. San Mateo, Santa Fe | 505-660-8503 |