MOVE studio offers a wide range of fun, affordable dance fitness classes in Santa Fe, NM. From stretching & flexibility to strength training to dance-based cardio to hip-hop, we've got classes for beginners as well as the more experienced student. Join us as we move to the most current and rockin' music to bring the fierce and fun level to a high in every single class we offer.
Announcements
Temporarry suspension of the DCP!™ + fit class
Beginning this Thursday, June 1 ~ the Thursday 11:30am class will revert to it's original DCP!™ dance format through the summer.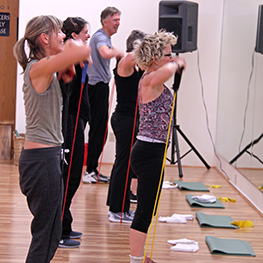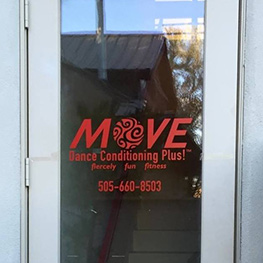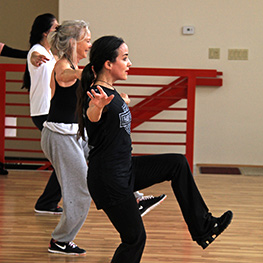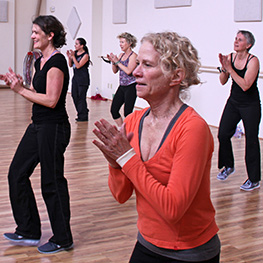 Dance Conditioning Plus!™ (DCP!™) Schedule
Today at MOVE | Studio Calendar
| | | |
| --- | --- | --- |
| DAY | TIME | CLASS |
| MONDAY | 11:30am-12:30pm | DCP™ |
| TUESDAY | 11:30am-12:30pm | DCP!™/technique |
| WEDNESDAY | 5-6pm | DCP™ |
| THURSDAY | 10:15-11:15am | DCP!™/tutorial |
| | 11:30am-12:30pm | DCP!™/+fit |
DCP™
: This richly choreographed class combines the delight of dance with the fundamentals of fitness. It is designed to help improve coordination and access greater body and core awareness all while having fun!

DCP!™/+fit: In addition to dance, this class offers increased strength training, coordination exercises, stamina-building cardio and play! We've added weights, balls, hula hoops and more to take your full body experience to the next level.

DCP!™/tutorial: This hour is designed to help beginner students learn and/or catch up on the basic Dance Conditioning Plus!™ vocabulary by breaking down each step and practicing the fundamentals which comprise each routine..

DCP!™/technique: This slightly slower but more challenging class offers an opportunity to take your movement quality to the next level by encouraging you to deepen your understanding/execution of each step, each arm movement and each transition between the steps.
---
HOME
|
DIRECTIONS
|
DCP!™ SCHEDULE
|
ABOUT
|
STUDIO RENTAL
|
STUDIO CALENDAR
|
PHOTO GALLERY
|
901 W. San Mateo, Santa Fe
|
505-660-8503
|